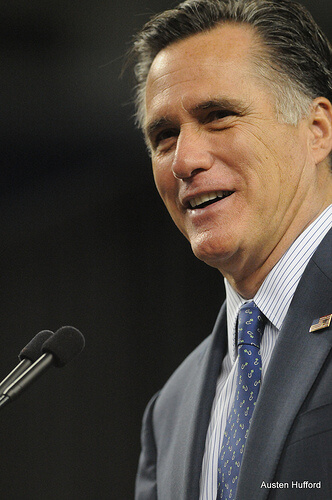 With the national political conventions right around the corner, both presidential campaigns have become notably more aggressive. The president, his super PAC and key surrogates have kept up a regular drumbeat of attacks on Mitt Romney's record at Bain Capital, his identification with wealthy Americans, and his refusal to release tax returns. The Romney campaign's latest gambit has been an ad claiming that Obama has "gutted" the 1996 welfare reform law and is now in favor of sending unconditional cash assistance to recipients.
Both campaigns have also continued the habit of loudly crying "foul" against opposition tactics. The Romney campaign and the conservative commentariat have become almost unhinged over the taunting of their candidate by Senate Majority Leader Harry Reid, who has repeatedly claimed a (unnamed) reliable source privately told him Romney's hiding a decade of paying little or no federal taxes. It's become axiomatic on the Right that Reid is simply making it all up, while some Democrats busily speculate about the possible identity of Reid's source (with the Huntsman family of Utah, which has many close connections with Romney and with Bain Capital, and is also friendly with Reid, being the most common guess). Romney's "welfare ad," which tries to turn an agency announcement that the administration would entertain waiver requests from states into some sort of unilateral abolition of work requirements, gained a quick denunciation from former President Clinton, whose image is in the ad, and from welfare policy specialists in both parties.
It has been widely assumed that the "softening up" of Romney via a focus on his character and business record would soon give way to an all-out Democratic assault on the Ryan Budget and other controversial GOP policies, but the personal lines of attack, having exhibited some signs of success in undermining the candidate's personal favorability ratings, are lingering on. Obama's new catch-phrase "Romney Hood" represents one way his campaign is seeking to cross the bridge from biography to policy.
Romney's "welfare ad" indicates a somewhat more perilous tactic, particularly given his campaign's deep investment in an "economic referendum on the president" message that is chronically unsatisfying to conservative activists demanding a more hard-edged, ideological/cultural assault on the president. It represents an escalation of the longstanding GOP claim that Obama has abandoned the centrist Clinton legacy and is driving his party and country to the left, but given the racial undertones of a revival of 1980s-style "welfare wedge" appeals, could unleash passions that make the election a choice of polarized options rather than a referendum on the status quo. The other plausible interpretation is simply that the disproportionate importance of non-college educated white voters in the ranks of a small undecided vote is luring Team Romney into the kinds of cultural messages that detached this segment of the electorate from its habitual Democratic loyalties in the past.
In any event, the future direction of the Romney campaign will soon become more evident with the announcement of his running-mate (probably the moment the distraction of the Olympics has ended) and then the thematics of the GOP convention. NBC has been confidently reporting that the "final three" for the Veep selection are the bland do-no-harm options Tim Pawlenty and Rob Portman, and the more interesting and dangerous Paul Ryan. While all three are acceptable to the conservative activists presumed to hold an implicit veto over the selection, it's Ryan who would excite them—and Democrats already planning to make the Ryan Budget and its combination of high-end tax cuts with large changes in Medicare, Medicaid and other Great Society safety net programs a big focus in the fall. Although it's very likely the decision has already been made, the growing sense among observers from both parties that Romney must soon begin showing some progress in the polls is creating at least a small echo of the dynamic that led John McCain to gamble on Sarah Palin four years ago.
The polls, in fact, remain relatively stable, though some Republicans have expressed alarm about scattered evidence that Romney's personal favorability standing vis a vis Obama is deteriorating. Two new national polls released yesterday (from Fox News and CNN) actually show the incumbent opening up his first statistically significant lead in months. Another confusing variable is the exceptionally short period of time between the two conventions this year; the traditional post-convention "bounce" that Republicans have been hoping for may not occur.
There was one more state primary this week, in Missouri. Republican primary voters gave embattled Democratic Sen. Claire McCaskill the opponent she wanted in Rep. Todd Akin, a hard-core social conservative with a long history of controversial statements and congressional votes. Akin won a close three-way battle against former state treasurer Sarah Steelman (vocally backed by Sarah Palin) and wealthy businessman John Brunner. Akin's vote was probably enhanced by a strong turnout from conservative evangelical voters mobilized by a state constitutional amendment referendum establishing a so-called "right to pray" in schools and other public venues.
Photo credit: D_Clay