It's become conventional wisdom: when the economy falters, it's because people aren't spending. Give people money and they will spend their troubles away (and our troubles, thanks to the money multiplier).  Everyone is a winner. This advice is at the top of campaign trail talking points. It has been given by economists ranging from Bruce Bartlett and Paul Krugman to Ben Bernanke.
But what if that isn't the whole story – the government has spent hundreds of billions in a series of stimulus measures aimed at consumers and it hasn't been enough.  Growth is painfully slow and today's jobs report shows we are still not creating enough jobs–163,000 in July–to absorb recessionary losses. So what's going on – was the stimulus too little?  Is demand being unusually stubborn?
We're missing something: it's not only about demand; it's also about investment. And the July 2012 annual revision to GDP confirms we are in an investment drought.  The graph below tells the story.
Halfway into 2012, real nonresidential private investment is still 7% below its pre-recessionary level. And after initially increasing, real government investment is now almost 10% below its pre-recession level – and falling. Meanwhile, demand appears to be doing fine. Both real personal consumption expenditures (PCE) and real retail sales, two commonly used measures of consumer demand, have fully recovered from the recession – and then some.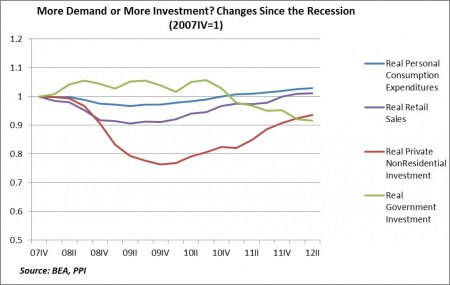 Low investment is bad news for jobseekers and Americans struggling to make ends meet.  Investment buys us growth in output and in jobs through production expansion. It also buys us wage increases through gains in productivity. It buys future innovation. Economic success begins with investment.
That's why we must focus more on stimulating investment and less on stimulating demand.  And that's why PPI recently published a list of the top 25 "Investment Heroes," defined as U.S. based companies ranked by their U.S. investment.  We wanted to highlight those companies that continue to invest heavily in America, and explore what we can do to encourage more.
That means policies aimed at stimulating consumer demand will not have the intended effect.  While many economists argue the stimulus from the ARRA was not big enough, perhaps the real issue is there was not enough stimulus aimed at investment.   Perhaps the drop-off in real government investment was too soon.
Yet politicians, economists, and journalists alike continue to blame our current economic woes solely on weak demand.  We hardly ever hear about the dearth in private investment. Instead they continue to develop policies aimed at getting money to consumers. But until they realize that aim misses the mark we will continue to take the slow, winding road forward.