Last week's employment status report of America's youth from the BLS shows the number of people aged 16-24 not in the labor force or enrolled in school in July continues to rise, despite the overall recovery in the labor market.
The number of youth "at loose ends" during the summer of 2012 totaled over 7.5 million – a 2% increase over the same month in 2011, and a 10% increase over 2007. These are young people aged 16-24 that were not working for pay, not actively looking for work, and not enrolled in school in July. I analyzed data from the Current Population Survey to get these numbers.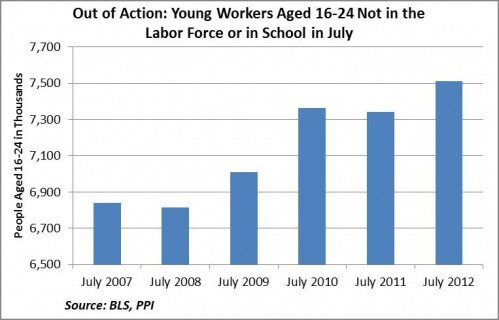 What's likely happening is that potential young workers are being squeezed out of the labor force. I've written about the "Great Squeeze" before. As middle-tier jobs fall away, we see a shift down in the workforce. College grads squeeze out non-degree holders by taking jobs that don't require a degree (and pay less). Those with less education squeeze out those with even less education. Eventually there are no jobs left for the youngest, least educated workers.
So, what are these 7.5 million young Americans doing on their summer vacation? Beach getaways and late nights out? Auditioning for American Idol? One Fed economist found an answer that may surprise most parents: "watching TV, playing video games and sleeping." Of course we can also take comfort knowing at least some of these people are getting experience in unpaid internships, as they don't count as being employed (statistically speaking).
How young Americans spend their summer vacation matters – for the 7.5 million young people in this category that aren't unpaid interns, they are not getting the "real-world" experience that will enable future success. And we need them to be prepared for the economy they will inherent. Or at least able to pay for our retirement. That means doing what we can to fix the real problem: Getting young people the education and training that they need to prosper.