Young educated Americans are finally rejoining the workforce. According to BLS statistics, the labor force participation of Americans age 18-34 with a Bachelor's or Associate's degree is rising again. By comparison, young people without higher education are still dropping out of the labor force.
The chart below shows the divergence in labor force participation between young people with and without a degree. Having a degree makes a big difference in who shares in the labor market recovery and who is increasingly left behind. Interestingly, young people with a vocational Associates degree are having the best recovery in labor force participation, even better than those with a Bachelor's degree.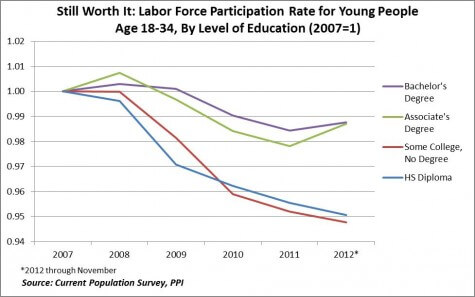 To be sure, the news is not all good. College students are well aware of the challenges awaiting them, like rising average student debt and falling real earnings. Most young grads say their biggest ambition has come to finding a job that pays enough to cover rent.
But it's clear that young people with a degree continue to fare better than their peers without one.
Young people are being hit hard by what I call the Great Squeeze. A labor market that lacks enough middle-skill jobs, coupled with an inadequate preparation for today's high-skill jobs, is resulting in a race for low-skill jobs that pay less. Eventually those with more education will squeeze out those with less education from the workplace. It's why four years into the recovery young people without a degree are becoming more alienated than ever from the world of work. That is worrisome for a generation with their highest earning years ahead of them.
That means we must do more to help young people work their way through the challenges that face them. We must place a higher priority on policies that explicitly target the economic success of young people, policies that better align them with today's jobs. And access to an advanced education – including college and vocational training – should be at the top of the list.