New PPI research finds young people continued to be squeezed from the labor force in 2012 relative to people age 35 and over. More young people, facing limited job prospects in spite of a broader economic recovery, are being forced to leave or stay out of the workforce. This could have serious long-term implications for the economic well-being an entire generation.
Over 2000-2012, the labor force participation rate for young people aged 16-24 fell by 17 percent, a precipitous fall that was exacerbated by the recession but started well before. Similarly, in 2012 those aged 25-34 were still 4 percent below their labor force participation high in 2000. They are struggling to recapture lost jobs during the formative years of what determines one's career and earnings potential.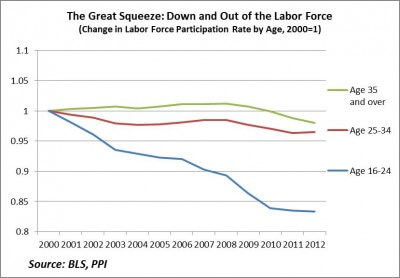 The staggering fall of labor force participation rates for the youngest working age segment of the population cannot be explained solely by increased college enrollment. Had the labor force participation rate remained constant since 2000, I estimate there would have been an additional 4.1 million people aged 16-24 in the labor force in 2011. Meanwhile, BLS data shows college enrollment of people aged 16-24 was 3.2 million higher in 2011 than 2000, and more college students were in the labor force (although the participation rate fell).
What's going on here is what I call the "Great Squeeze" – the disappearance of middle-skill jobs and lack of preparedness for high-skill jobs are forcing young people to squeeze themselves down or out of the workforce. It's why young college grads age 25-34 have seen their real earnings fall by 15% since 2000. They have been forced to take the lower skill jobs for less pay that non-graduates would have taken. In turn, non-college graduates are forced down the career ladder – or out of the workforce all together.
And it doesn't stop there: the Great Squeeze has made it very hard for new high school graduates not enrolling in college to enter the world of work.  The unemployment rate of new high school graduates increased from 9.5 percent in 2000 to 26.7 percent in 2011, and the number of new high school graduates neither enrolled in college nor in the labor force increased 54 percent.
This suggests investing in young Americans should be a bigger priority to policymakers. For example, we must increase college access and affordability, since getting a college education remains the best way to enhance one's financial prospects. That means proactively addressing excessive tuition increases and rising average college debt, while better preparing young people for the millions of high-skill jobs that go unfilled for lack of qualified candidates. Young people can't afford sit on the sidelines much longer.