Does innovation create or destroy jobs?  The rush of new ideas and new technologies can turn formerly rock-solid companies into sand that melts away even as we watch.  The sale of the Washington Post is a case in point. By making that deal,  the Graham family is acknowledging that they could not see a good strategy for survival.
We know what will happen next: Fewer journalists will be working at the Post a year from now than today.  The Grahams allowed the operation to run mammoth losses which Jeff Bezos, rich as he is, will not tolerate.  Many people will suffer.
But remember this: Old industries can decline even as new jobs growth. In fact, the field of journalism is going through a massive innovative spurt that is creating jobs even as others are being destroyed. About a month ago I did a post on exactly this subject, where I looked at unpublished BLS data and help-wanted data from The Conference Board.  Here's what I found:
Employment at newspapers is  down about 5% over the past year.
The number of help-wanted ads for "news analysts, reporters, and correspondents" is up 15% compared to a year ago.
More people are telling the BLS that they are working as a news analyst, reporter, or correspondent compared to a year ago.
Roughly half the want-ads for news analysts, reporters and correspondents contain the words 'digital', 'internet', 'online', or 'mobile'.
Let me do this as a chart.This chart plots employment in the newspaper and periodical industry (the blue line) against want ads for "news analysts, reporters, and correspondents" (the red line) We start with June 2007, right before the recession started, and go to June 2013.
We see that print media employment and demand for journalists track pretty well through December 2009. Both drop around 20%. The annual data from the BLS CPS survey (not shown on chart) tells roughly the same story. From 2007 to 2009 employed "news analysts, reporters and correspondents" dropped from 84K to 65K, also roughly a 20% decline.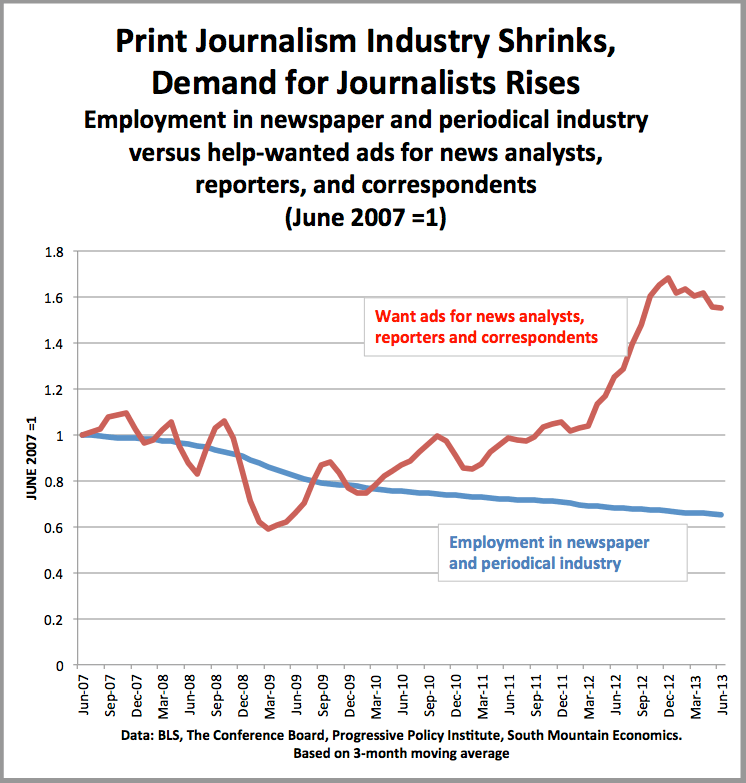 Ah, but starting with 2010, we see a divergence. Employment in the legacy print media business continues to drop, with no sign of a turnaround. Both newspapers and periodicals continue to close and lay off workers, undermined by online competition in both the news and ad business.
But the demand for journalists picks up sharply. According to data from The Conference Board, the number of want ads for news analysts, reporter, and correspondents more than doubled from early 2010 to today! Moreover, it is noteworthy that the BLS annual series show a 25% gain in the number of working journalists from 2009 to 2012 (not shown on chart)
Now, let's be realistic. I'm not saying that the true demand for journalists doubled between the beginning of 2009 and today, although given that no one was hiring in the depths of the recession, that statement might be literally true. In fact, the help-wanted series is an example of naturally-generated 'big data', meaning that it can be affected by changes in business practices, such as the way jobs are posted. The nature of journalism jobs may also be changing.
However, there seems little doubt that technology and innovation in journalism is creating new jobs in different industries even as the old companies and old industries are being undermined. I'm pretty sure that jobs at Politico are not being reported not in the same industry as jobs at the Washington Post, even if Politico hires a WaPo reporter to cover more or less the same things.
As innovation accelerates, we'll see more examples of this kind of divergence: Declining old industries, growing new jobs.  Our task is to identify where the new jobs are and encourage them.