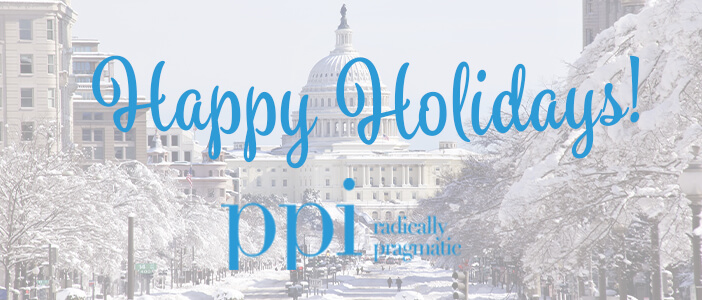 Because of friends and supporters like you, PPI has much to celebrate as we close the books on 2016. Our holiday cheer is somewhat tempered though by the new political realities progressives face following the 2016 elections.
Nonetheless, our New Year's resolution at PPI is to define a new governing vision for progressives – a hopeful alternative to the backward-looking populism that is rolling over America and the Western world.  Simply hunkering down in opposition isn't enough; to revive our fortunes we will need new ideas, new leaders and new political coalitions.
Given our history as a force for political change and policy innovation, PPI is once again poised to be a catalyst for progressive renewal. In fact, we made significant progress over the past year in crafting a new agenda for progressive reform.
 Our 2016 highlight reel includes the following:
In January, PPI hosted Julie Brill, former commissioner of the U.S. Federal Trade Commission and Bruno Gencarelli, head of unit for data protection, European Commission in Brussels for a conversation on the importance for the E.U. and U.S. to develop rules to govern the economically critical function of transatlantic data transfers.
In the spring, we released our major policy blueprint, Unleashing Innovation and Growth: A Progressive Alternative to Populism. This report lays out in detail a new vision for pro-growth progressives.
In April, PPI organized a trip with a bipartisan group of 12 senior-level congressional staffers to London and Brussels to engage U.K. and E.U. policymakers and thought leaders on issues vital to the transatlantic relationship.
A series of groundbreaking reports on the emergence of a 21st century model for organizing America's public schools. David Osborne, director of our project onReinventing Public Schools, is hard at work on a book that brings these stories together and will come out in 2017.
We convened a group of prominent Mayors at the Democratic Convention in Philadelphia, to launch PPI's "Going Local," project, which focuses on the shift of political initiative from Washington to progressive Mayors.
At a September Capitol Hill forum, featuring U.S. Commerce Secretary Penny Pritzker, PPI unveiled a report on how small U.S. companies and entrepreneurs are using digital platforms to connect to global consumers.
Harvard economist, Joe Aldy, released his PPI proposal "swapping" a carbon tax for regulatory and tax relief as a way to break the energy/climate impasse.
In October, PPI opened our Brussels office to anchor our ongoing dialogue with European progressives, and our expanding work with the European Union and member states.
PPI Chief Economic Strategist Michael Mandel led several missions to Japan, Latin America and Mexico to highlight the explosive growth of a global "app" development economy and the public policies necessary to support digital innovation.
Building on these activities, PPI is poised to play a key role in developing a new progressive governing platform in 2017.
None of this would be possible without your friendship and support. Thank you and have a happy holiday and New Year!
Sincerely,
Will Marshall
President
PPI