Finally some good news for young college grads – in 2012 their real average annual earnings increased for the first time in six years. New data reveals average annual earnings for college graduates age 25-34 working full-time increased 0.9 percent in 2012, in constant dollars.
The turnaround could represent a major shift in the fortunes of young grads, who have seen their real average annual earnings fall by 15 percent since 2000. A bottoming out of this precipitous decline is welcome news to current and recent college graduates struggling to balance paying off student loans with gaining financial independence.
However, this good news should be met with cautious optimism. The same data also shows that real average annual earnings of all college graduates continued to fall in 2012. As shown in the chart below, real average annual earnings for people age 18 and over working full-time with a Bachelor's degree only fell 2 percent last year, now almost 10 percent below 2000 levels. The fact remains that people with a college degree (and only a college degree) continue to have a tough time in today's labor market.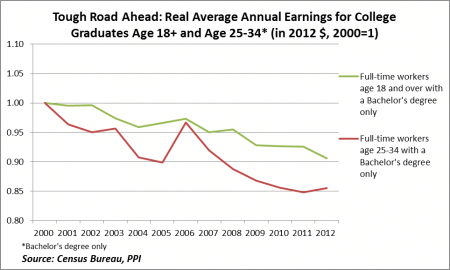 That real earnings for all college graduates continued to fall suggests young college graduates aren't yet in the clear. Young college graduates epitomize the today's middle-class – they typically work in middle-skill jobs that pay average wages. It follows that young college grads were one of the groups worst affected by the financial crisis and the decade-long hollowing out of middle-skill jobs. Since their wages have fallen significantly more than their older college graduate peers, the turnaround could be an early indicator of labor market recovery for the middle-class or it could simply reflect they have much further to climb. Continued downward pressure on earnings of all college graduates won't help sustain this momentum.
That means many challenges remain for young college graduates, in spite of this turnaround in earnings. The most recent figures show over half of recent college graduates are underemployed or unemployed, a historical high. The downward pressure on earnings from "The Great Squeeze" – the economic reality that college graduates are increasingly forced to take lower skill jobs for less pay – was exacerbated by the recession but started well before. Once a college graduate starts on a slow-growth career trajectory, it can be very hard to catch up financially.
The economic obstacles afflicting young college graduates will be difficult to truly reverse unless there are fundamental changes in how we prepare and train our workforce. Given how much lost ground real earnings for young graduates still have to recapture, and the importance of investing in a college education in today's economy, that means policymakers would be well-served to make such reforms a bigger priority.