Recent gains in home prices in the authoritative S&P Case Shiller Index seem to confirm the growing impression that a housing recovery is underway. While the data is clear that home values are indeed rising, it is unclear, as I have pointed out previously, whether the fundamentals behind the rise (record low interest rates, investor participation, and high levels of refinancing) are sustainable.
This does not mean that prices inevitably are set for a decline. The point here simply is to warn policy makers not to take their eye off the ball. Housing markets remain weak, and there is a very real possibility of a double-dip decline in home values early next year.
A closer look at Case Shiller (CS) reveals two trends that could temper enthusiasm about recent index gains. First, the rise in home prices seems to be decreasing month to month. Second, year-over-year (Y-o-Y) increases in home values could falter as many metro regions come up on the one-year anniversary of their lowest price points. This is key since many areas have seen meaningful Y-o-Y gains and that metric has been a large part of the media, policy, and investment narrative driving the recovery. So what happens to housing markets if home price appreciation starts slowing down?
It's an important question, because investors account for a significant share of housing demand, representing 27 percent of home purchases. Without a continued upswing in prices, they're likely to stop buying.
DATA DIVE
Home prices rose 0.9% from July to August, 2012. While welcome, it does represent a decrease of the previous month-over-month reading from June to July 2012 of 1.6%. That number followed three consecutive decreases from 2.2% and 2.3%, respectively. Some of the hardest hit areas that have been key drivers of the home price rebound show similar, albeit erratic, signs of slowing growth over the same period:
| | | | | | |
| --- | --- | --- | --- | --- | --- |
| | August/July Change % | June/July Change % | May/June Change % | April/May Change % | March/April Change % |
| S&P CS 20 city (NSA) | .9% | 1.6% | 2.2% | 2.3% | 1.4% |
| AZ-PHX | 1.8% | 2.2% | 2.5% | 2.7% | 2.5% |
| FL-MIA | 1.0% | 2.1% | 1.6% | 1.4% | 0.4% |
| NV-LAS | 1.6% | 0.7% | 1.5% | 1.9% | 1.1% |
The following chart from CS shows slowing growth across the major metro regions. Of the 20 metro areas, 19 showed prices increasing, with Seattle being the only one to come in with a modest -0.1% decline. More statistically significant are the 17 metros regions that showed serious decline from the July/June period to August/July. Two showed modest increases (Cleveland and Las Vegas) while Los Angeles; the second largest metro region, had no change.
Of the regions, half showed significant declines, measured as growth slowing 50% or more: Boston, Chicago, Dallas, Denver, Miami, Minneapolis, Portland, San Francisco, Seattle and Tampa. Seven areas registered a slowing of growth between 0-50%: Atlanta, Charlotte, Detroit, New York, Phoenix, San Diego and Washington, DC. Cleveland and Las Vegas posted gains of 150% and 129% respectively while Los Angeles was flat.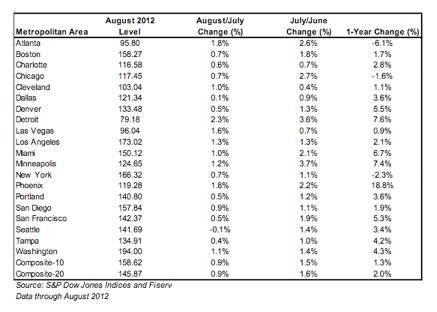 The last caution flag to come out of the CS report are the jumps in year over year increases in areas that have garnered much attention in the media and investment community. Phoenix saw an 18.8% Y-o-Y increase from the recently released August numbers. While that gain is at the high end of the spectrum, most regions have followed a similar pattern. The problem is since we have bottomed out on price, those juicy gains that have spurred the investment community are destined to begin to diminish. Phoenix's lowest price point in the index was September 2011. After September, if Phoenix prices keep seeing a decline in growth, the gap that has been producing double digit y-o-y gains will begin to close. The evaporation of these celebrated gains will send caution signals to the market, further dampening demand.
Phoenix was the earliest market to hit bottom in September, 2012. But after Jan. 1, 2013, other metro regions will begin reaching the one-year anniversary of their price bottom and the media and the investment community will have a serious reversal of fortune to discuss.
| | |
| --- | --- |
| 12 Month Since Price Floor | City |
| September 2012 | Phoenix |
| November 2012 | Miami |
| January 2013 | Dallas, San Diego |
| February 2013 | Case Shiller 20 City Index, Charlotte, Cleveland, Denver, Los Angeles, San Francisco, Seattle, Tampa, Washington, DC |
| March 2013 | Atlanta, Boston, Chicago, Las Vegas, Minneapolis, New York, Portland |
| April 2013 | Detroit |
It is not time for policymakers to declare victory in housing and refrain from intervention. We are not at a point where the market will "cure itself". Negative equity, foreclosures and tight credit continue to be true recovery obstacles. We must continue to find ways to promote equity, build a pipeline of responsible homebuyers and looking forward to a sensible, balanced national housing policy.