WASHINGTON—Manufacturing productivity, on the decline for two decades, could be on the upswing and the sector could be on the verge of a significant transformation, according to a new report authored by PPI Chief Economic Strategist Dr. Michael Mandel. This shift hinges on an alternative digital future for manufacturers – one built around innovations in other sectors such as distribution and communications. Mandel terms such a digital transformation in manufacturing "The Internet of Goods."
"The future of manufacturing, having come more slowly than expected, may now be on the verge of happening all at once," Mandel writes. "The ability to digitize the actual manufacturing and distribution process is rapidly approaching the point where new business models and new markets will emerge. Digitization of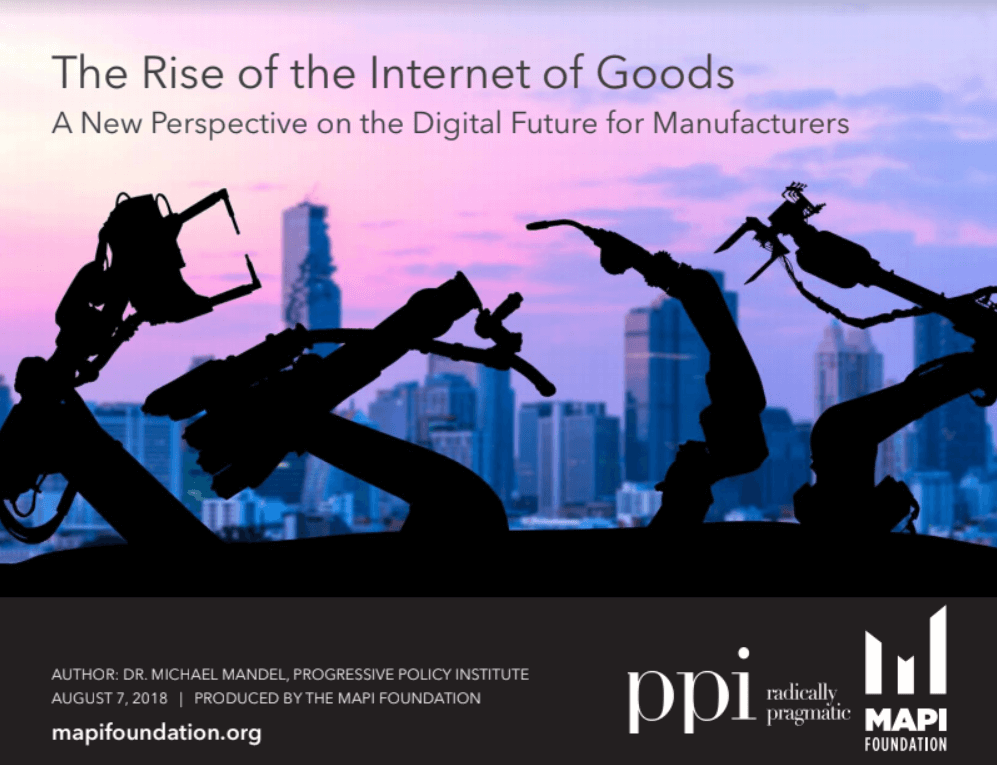 production and digitization of distribution will lead to a renewed emphasis on local manufacturers, which will provide rapid response customization and distribution that foreign competitors cannot. Moreover, we are entering a new era of manufacturing platforms, both open and proprietary, which may boost global productivity and innovation in manufacturing."
"The result: anticipate a thickening network of small-batch and custom factories taking hold around the country. The new business models will give a sustained competitive advantage against foreign competitors, because who wants to buy a custom item from a supplier 10,000 miles away that will take two months to arrive? This will enable the U.S. to rebuild its industrial networks in areas like the Midwest and upstate New York."
"As this fascinating preview of the coming 'Internet of Goods' shows, America is on the cusp of an exciting new era of manufacturing start-ups and jobs enabled by digital innovation," said PPI President Will Marshall. "Technology – not Donald Trump's retrograde tariffs – is the right tool for growing manufacturing jobs across the country."
In the report, "The Rise of Internet Goods: A New Perspective on the Digital Future for Manufacturers," Mandel discusses the convergence of three new trends that will boost manufacturing productivity and create new markets:

—The rise of ecommerce fulfillment centers and the digitization of distribution;
—The dramatic expansion of robots and 3D printing for quick and cheap delivery that will allow for more localized production of goods; and
—Cloud-based manufacturing platforms that enable design, production, sales, and distribution to run as separate services on a packet-switched network.
As the Internet of Goods takes hold, state and local policy will play a powerful role in determining which areas are the big winners, according to Mandel. The gains will depend on whether the local workforce is prepared for tech-enabled physical industries; the availability of capital for local entrepreneurs to start new businesses or expand existing ones; and the regulatory environment.
###