WASHINGTON— The Progressive Policy Institute (PPI) today released a new study, 
"

A Historical Perspective on Tech Jobs,"
authored by PPI Chief Economic Strategist Michael Mandel comparing job creation performance among tech companies in the United States to employment leaders of the past. The study finds that today's big tech companies are following a similar or better employment trajectory than big job creators of the past, while average hourly wages for many tech and telecom industry jobs fall solidly into the rank of "middle-class" jobs, though the concept of  "middle-class" requires greater analysis and examination. 
 "When we compare today's tech leaders with the employment leaders of the past at a similar stage of development, it turns out that the job creation performance of the tech sector looks quite good," writes Mandel. "We remember the giant corporate employers of the post World War II period, but we fail to remember how they had generally been in existence for many decades before they reached that mammoth size. And just like it takes many years for an oak tree to grow from an acorn, it turns out that employment growth simply takes time." 
PPI's study finds that in 2016, Amazon became the fastest American company to reach 300,000 workers, hitting that mark in its twentieth year as a public company. This figure, which does not include contractors or temporary workers, represents an average employment growth rate of roughly 30 percent annually. 
By contrast, General Motors reached 300,000 employees in 1941, 32 years after its 1909 founding. American Telephone & Telegraph hit the same milestone in 1926, 27 years after its 1899 absorption of the local Bell systems. And Walmart went over 300,000 associates in its 1991 fiscal year, its twenty-first year as a public company. 
According to the study, Amazon is not alone; In fact, tech giants such as Google, Apple, Facebook, and Microsoft are adding jobs as fast or faster than the great job-producing companies of the past, like General Motors, AT&T, Walmart, IBM, General Electric, U.S. Steel, and Bethlehem Steel. 
The study includes charts and tables highlighting the historical comparisons, as well as a comparison of average hourly wages for selected tech and telecom industries. This comparison previews an upcoming paper on the quality and wages of tech and telecom jobs, including upstream and downstream jobs.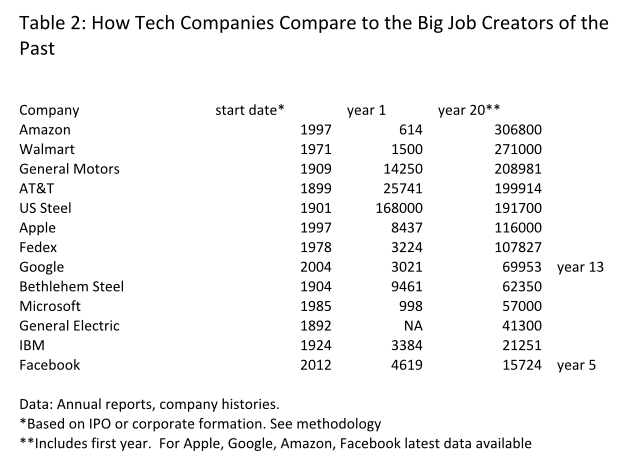 ###