New Analysis Highlights Dire Fiscal Situation
New projections from the non-partisan Committee for a Responsible Federal Budget show that Donald Trump and the Republican-controlled Congress have plunged the United States back into trillion-dollar deficits at a time when most economists believe we should be whittling them down.
According to CRFB's estimates, which are based on a methodology similar to the one used by official scorekeepers at the Congressional Budget Office, the policy changes made since last fall will likely result in $6 trillion being added to the national debt over the next decade if they're allowed to remain in place. This is in addition to $10 trillion of new debt that was already projected to accumulate under the law as it was previously written.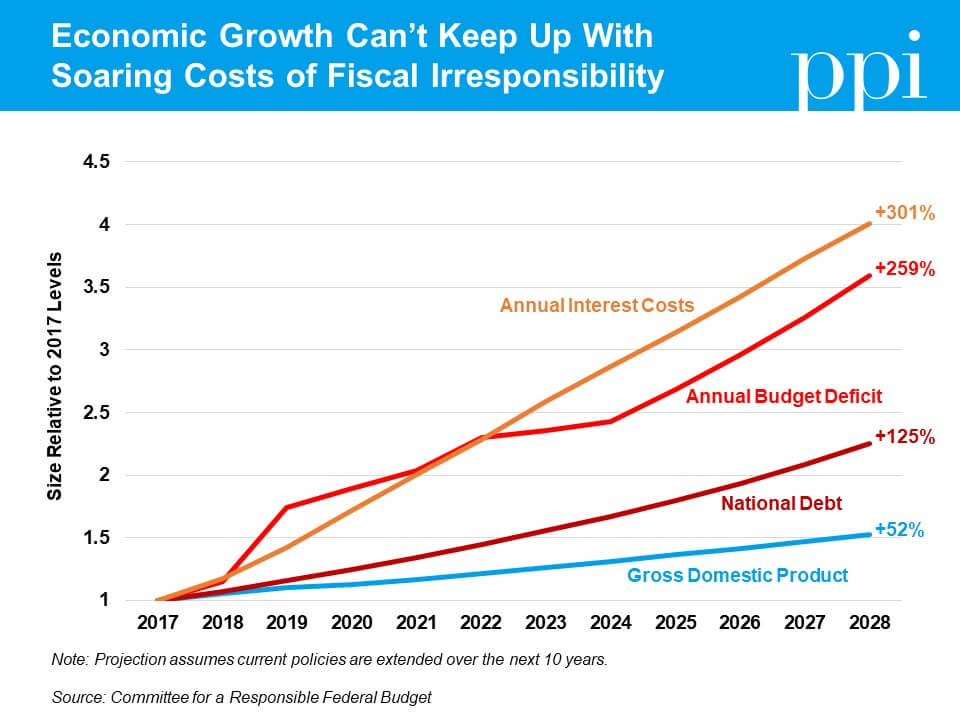 If the government continues on this trajectory, our national debt will be more than double the level it was when Donald Trump took office by the end of the decade. Annual budget deficits will triple. Annual spending on interest payments will quadruple. And economic growth won't be able to keep up with any of it.
Many of the fiscal challenges facing the United States predate the current administration. But whereas CBO previously projected annual budget deficits to exceed $1 trillion beginning in 2022, CRFB's analysis warns that we now face trillion-dollar deficits this year. By 2028, the budget deficit will swell to 2.4 trillion, which would be over 8 percent of gross domestic product – a level not seen outside of the Great Recession since World War II.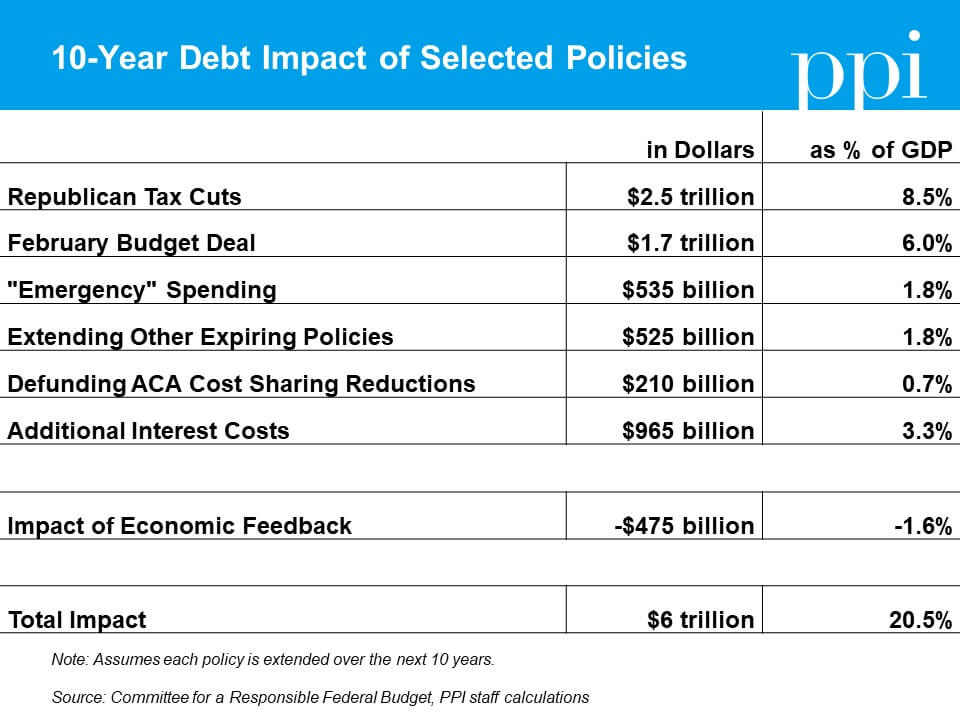 The primary contributors to this deteriorating fiscal situation are the Republican tax bill (formerly known as the Tax Cuts and Jobs Act) and the February budget deal (the Bipartisan Budget Act of 2018), which together account for over half of the additional borrowing expected over the coming decade. Funding for disaster relief, overseas military engagements, and other "emergencies," as well as policies that were supposed to expire last year but were nonetheless extended without being offset, were expected to add another trillion dollars to the debt. Finally, Republican efforts to undermine the Affordable Care Act by defunding cost-sharing reductions would further grow government debt by increasing the cost of health care.
The CRFB report notes that when President Obama left office, "paying for new legislation and securing the solvency of various trust funds would have been sufficient to prevent debt from rising rapidly as a share of GDP." Since then, legislation spearheaded by Republicans has "turned a dismal fiscal situation into a dire one."
Most of the blame belongs to the GOP, but Democrats are not completely innocent either. Many supported the February budget deal that not only reversed harmful sequestration but also busted through less restrictive spending caps originally intended to be a down payment on fiscal discipline, as well as some of the other policy changes mentioned above that were adopted without offsets. Both parties now have their hands on the shovel being used to dig our fiscal hole deeper and, as this new analysis makes clear, they need to put it down.