The Uneven Distribution of Pain: Healing the Broken Labor Market
The Covid recession is the most uneven economic downturn in history. Take a look at the following table, which we calculated from last Thursday's employment data.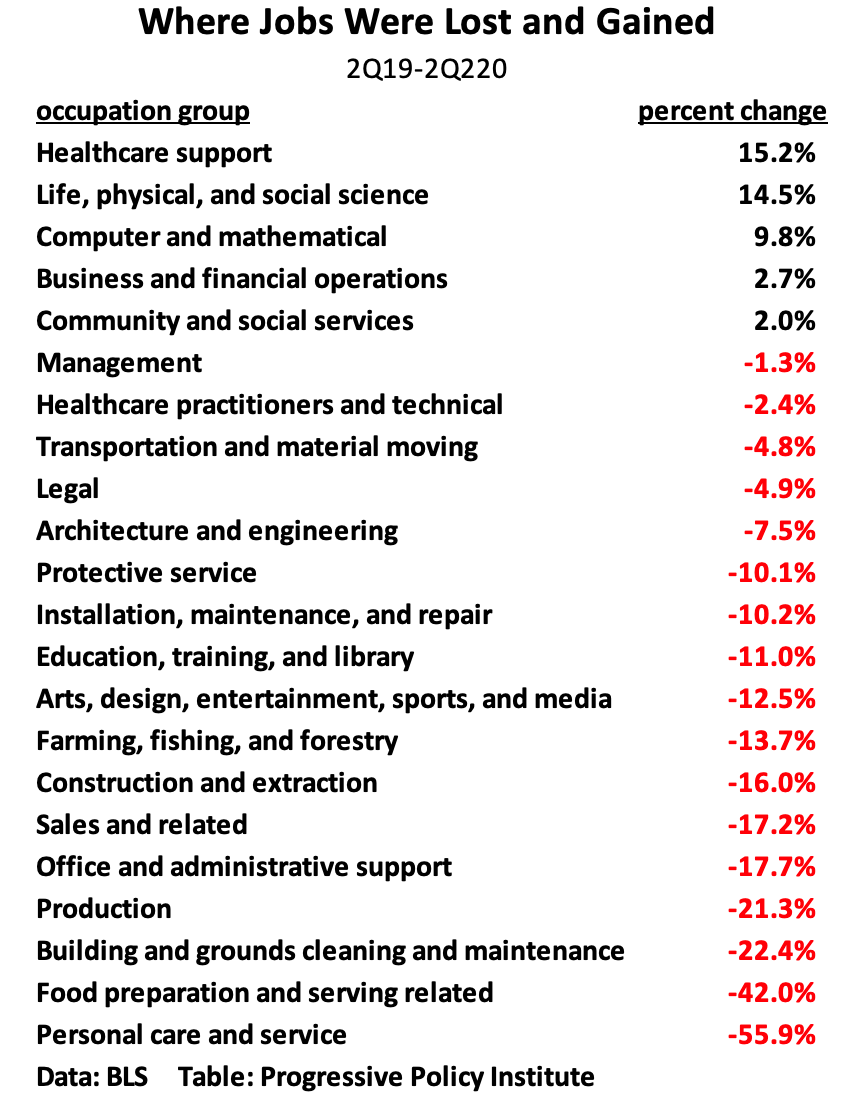 The table compares occupational employment in the second quarter of 2020 with the second quarter of 2019.  On the one hand, some occupations, like computer and mathematics-related jobs, have seen a significant employment gain over the past year of almost 10%. On the other hand, food preparation  and personal care jobs  saw an almost inconceivable plunge in excess of 40%.  Production jobs are down more than 20%.
This differential frames the economic task ahead.  How can we make sure that these workers, detached from the labor force, can find new jobs quickly when the economy starts to recover? Moreover, many of the businesses where they were formerly employed are likely to have disappeared as the country continues to stagger under the pandemic.
PPI has identified several policy prescriptions that can help. Just to summarize here:
First, policymakers must make it easier for the small businesses that survive to quickly expand to fill the void, especially in the hard-hit restaurant and personal care industries. Elliott Long describes how adopting a "startup tax credit" can help encourage small businesses to grow. Designed like the earned income tax credit, but only for businesses, the startup tax credit helps give small companies a boost in the right direction. In addition, state and local governments need to be wary of regulations that make it harder for companies to expand.
Second,  the U.S. has to adopt policies to encourage shorter supply chains and  manufacturing entrepreneurship, It should be a national imperative to help small manufacturers adopt digital technologies that make them more flexible and able to compete with foreign suppliers, and then connect them up with larger buyers.
Third,  any economic recovery and infrastructure legislation should include large investments in clean manufacturing, as Paul Bledsoe of PPI has advocated in a recent report.  That means many more production and construction jobs building  electric vehicles, charging stations and other elements of green technology, while upgrading all of our essential infrastructure.
Fourth, digital technologies can help connect up workers with open jobs much faster. We'll be writing more about that soon.