PPI Proposes Countering China with Smart, Targeted Strategy-Not Tariffs & Trade Wars-to Secure American Competitiveness
The President's blunt goal of reducing America's trade deficit with China won't address the threat of China's high-tech mercantilism
WASHINGTON —The Progressive Policy Institute (PPI) today released a new report by Ed Gerwin, Senior Fellow for Trade & Global Opportunity, proposing a smart, targeted long-term U.S. strategy to combat China's state-directed technology mercantilism, instead of the unfocused protectionist approach being pursued by the Trump Administration.
"The Trump Administration is right to highlight the threat that China's state-directed technology mercantilism poses to America's economic future," says Gerwin. "But the Administration's strategy—based on duties that damage the American economy and 'America First' policies that alienate our allies—is flawed, and won't change China's bad behavior. Neither will doubling down on that ill-considered strategy through this week's announcement of additional trade taxes on $200 billion in Chinese-origin goods."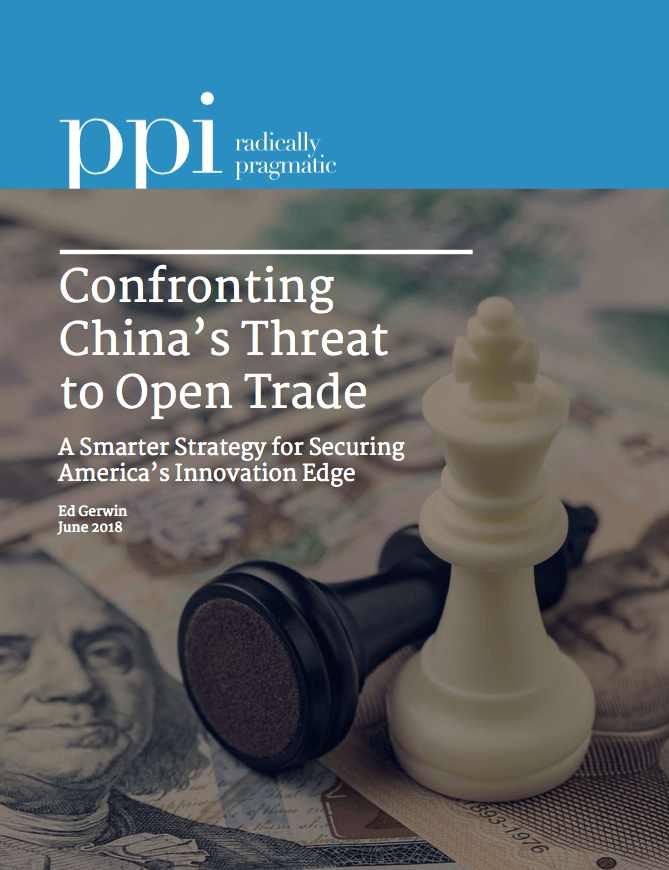 "Instead of tariffs and trade wars, the United States needs to pursue a tough, targeted, long-term strategy that enlists allies, enforces rules and writes new ones, focuses negotiations, and ratchets up pressure on China—all while advocating aggressively to keep global markets open. We detail such a strategy in our new report."
According to Gerwin, the linchpin of China's future-oriented mercantilism is an extensive array of plans, policies, rules, and practices to enable the transfer and assimilation of foreign technology and intellectual property for China's benefit. To achieve these goals, China is employing many unfair or illegal measures, including using foreign ownership restrictions and licensing approvals to compel American companies to transfer their technology, and directing and funding a highly coordinated effort by Chinese state-owned and private firms to acquire foreign tech firms. China's conduct poses a threat to the United States, Gerwin notes, where IP-intensive industries alone support more than 45 million jobs and represent 39 percent of U.S. GDP.
But threatening duties on Chinese products is unlikely to upend China's innovation mercantilism, Gerwin argues. Duties are likely to increase American consumer prices and reduce vital technology investments, while a tit-for-tat tariff war with China could cost an estimated 455,000 American jobs, most in less-skilled sectors. The Administration's "go-it-alone" approach to trade is also alienating allies in Europe, Japan, Korea, and elsewhere who should be natural allies in opposing China's technology mercantilism. Finally, there's significant concern that President Trump may undercut the long-term effort required to address Chinese mercantilism by, instead, focusing on short-term "wins."
America should keep all options on the table in opposing China's abusive innovation practices, including targeted and intensifying trade sanctions, writes Gerwin. But these tactics must be part of a smarter, focused, long-term U.S. strategy that includes:
Working more closely with—and not needlessly alienating—trade partners who also face threats from China's unfair technology practices;

Using the WTO much more aggressively to launch a bold series of WTO challenges to China's multiple rules violations;

Leading a global effort to establish new rules and norms to address China's unfair innovation practices that aren't covered by existing global trade rules, including new rules to limit digital protection-ism and unfair competition by SOEs; and

Designating a single, high-level official to lead focused negotiations to seek specific and verifiable commitments from China on ending China's use of abusive practices that harm American competitors in innovative industry sectors
Gerwin calls on Congress to play a more active role in confronting China's high-tech mercantilism by:
Establishing a clear set of negotiating objectives for China that underscore the primacy of eliminating China's abusive innovation policies;

Providing additional resources to support ramped-up investigation, consultation, and enforcement related to China's unfair trade and technology practices;

Amending current law to broaden Executive Branch authority to use national security reviews, export controls, and other tools to address security and industrial base threats posed by China's acquisitions and technology demands; and

Establishing an escalating series of sanctions that would kick in if China fails to make verifiable progress in eliminating abusive innovation practices, potentially including reciprocal restrictions on Chinese technology licensing, the withdrawal of U.S. scientific and technical cooperation, and/or targeted sanctions on Chinese products based on stolen or unfairly obtained American know-how.
###