America's Remote Learning Imperative
The coronavirus pandemic is an historic test of the resilience of one of America's most precious public assets: our public schools. So far, it's a test we are failing. Tens of millions of children have fallen far behind in their studies. These learning losses will cascade as health fears keep most schools closed this fall – unless schools do a much better job of delivering effective online instruction to all students stranded at home.
As the pandemic continues to spread, it's hard to imagine a more urgent national imperative than making sure all school districts are equipped to meet this challenge. At stake are the future prospects of 50.8 million public school students—especially those from low-income families, which have been the most severely affected by school closings.  
There is no single cause of this failure and no single cure. Access to computers and high-speed internet is obviously essential and should be a priority. However, the core problem is that most schools are still unprepared to deliver quality remote instruction.  Most of our large, bureaucratic, overly centralized school systems move too slowly, train their teachers inadequately, and fail to engage too many of their students, as well as their parents. 
The U.S. needs a crash program—on a scale equivalent to the 1960s moonshot, but faster—aimed at helping our schools operate virtually, both as a substitute for and an important complement to live instruction. We need a multi-pronged push by elected leaders, school officials, parents and businesses to ensure that every child who needs it has equal access to high-quality remote learning—in 2020 and beyond. We should turn the immediate crisis into an opportunity both to minimize learning loss during the pandemic and to build a strong platform for better teaching and learning for the long term.
Our strategy must be holistic.  If the focus is solely on laptops and internet connections, the effort will fail. It must include:
intensive

professional development

for teachers

in online, synchronous teaching and use of available online curricula and resources; 

help for teachers and schools in engaging parents — who are, after all, every child's first teacher; 

help for parents whose jobs and other responsibilities make it difficult or impossible to also serve as teachers' aides at home;

development of new assessment tools to measure the effectiveness of different forms of remote education; 

support for students' social-emotional learning and mental health; 

reform of school districts to give schools the flexibility they need to innovate rapidly; and 

redoubled efforts to

improve literacy and digital literacy

in students, particularly in low-income communities.
With our decentralized model of public education, this burden will fall on the shoulders of state and local leaders. Since they are financially strapped by the economic shutdown, however, the federal government must provide emergency funding. As Hoff Varner, a PTA President in Alameda, California, told The New York Times, "If we were a country interested in saving schools the same way we've saved airlines and banks, then this is a problem we could solve." 
Instead of problem-solving, President Trump and his party have subjected the country to a needlessly partisan argument over whether or not to physically reopen schools.  
Like wearing masks and reopening the economy, reopening the schools should not be a political question. It must depend on whether parents, public health officials, and K-12 leaders believe it is safe for children and teachers in any particular locale to return to the classroom. A mid-July Axios-Ipsos poll showed that 7 in 10 American parents believed in-person classroom instruction was still too risky. 
Yet Congressional Republicans are treating the question like another partisan political football. While the GOP Senate bill offered $70 billion for K-12 public schools, Republicans proposed withholding two-thirds of funds from any school district until it submits a plan to the governor providing a detailed timeline for in-person instruction.
This made no sense. Apart from the historical irony of Republicans trying to dictate local school policy from Washington, it could jeopardize the health of millions of students, their parents, and educators. Republican lawmakers must drop their foolish threat to withhold money from schools that don't physically reopen, and join with Democrats to approve the $70 billion as soon as possible, while also supporting effective public health strategies that will ultimately allow schools to reopen safely. 
If that money is distributed by the same formula used last spring for the first $13 billion in federal aid to schools, it would give more money to schools with more low-income students.  That will create an enormous opportunity for our urban schools. Using that formula, former Chicago Public Schools CEO Paul Vallas estimates that Chicago Public Schools, with an operating budget of $6.4 billion a year, will get just over $1 billion in new federal money. That is probably enough to assemble the resources and support across many fronts—if teachers, administrators, school boards, businesses, non-profits, unions, parents, and elected leaders cooperate to dramatically accelerate what to this point has been a slow evolution toward adopting and exploiting the full potential of digitally-enabled remote learning.
What Happened Last Spring
The decisions last spring to send all children home understandably caught America's 131,000 public, private, and charter K-12 schools off guard. Some districts and schools rose to the challenge; many more did not. 
Now teachers' unions are agitating against both opening schools prematurely and against expectations that they prepare to become full-time online instructors. Unions obviously are right to be concerned about their members' safety. But the unions can't have it both ways. If schools stay closed while teachers balk at providing synchronous remote instruction, millions of U.S. children will fall even further behind. Primary and middle schoolers won't be acquiring the foundational skills – in phonics, reading and arithmetic – they need to become lifetime learners and productive workers. 
Data on the spring semester makes it extremely clear that things must change in the fall. 
By April 3, three weeks after school districts began shutting down, 76 percent of the 82 large districts studied by the University of Washington's Center on Reinventing Public Education (CRPE) still provided no instruction to students. More distressing, by May 22, a third of them still provide no instruction. 
But even that finding was overly optimistic. In a later CPRE study of a statistically representative sample of 477 school districts, "We found just one in three districts expect teachers to provide instruction, track student engagement, or monitor academic progress for all students—fewer districts than our initial study suggested," CRPE reported. "Far too many districts are leaving learning to chance during the coronavirus closures." 
The most damning finding: "Only 14.5 percent of school districts with the highest concentration of students receiving free or reduced-price lunch expect teachers to provide live instruction."
National student surveys reflected the same disappointing reality: 41 percent of teens did not attend any online or virtual classes; 78 percent reported spending only one to four hours per day on online learning; 32 percent reported two hours or less; and nearly one in four said they were connecting with their teachers less than once a week. 
In a survey by YouthTruth, reports CRPE Director Robin Lake, "Only 50 percent of students say they were able to focus on learning and only 41 percent said they were motivated to do schoolwork."
In sum, about half of U.S. public school students received little or no instruction from March onward.
McKinsey & Company, the international consulting firm, estimated how much learning would be lost in the next school year, based on modeling three scenarios for the next school year. In the first, in-class instruction resumes in fall 2020. In the second, school closures and part-time schedules continue intermittently through the 2020–21 school year, with full-time, in-school instruction delayed until January 2021. In the third scenario, the virus is not controlled until vaccines are available, and schools operate remotely for the entire 2020–21 school year.
In the second scenario — the one most likely at this point in many places — students would lose three to four months of learning (beginning in March 2020) if they received "average" remote instruction, seven to 11 months with "lower-quality" remote instruction, and 12 to 14 months if they received no instruction (thanks to a "summer learning loss" that lasted for 17 months).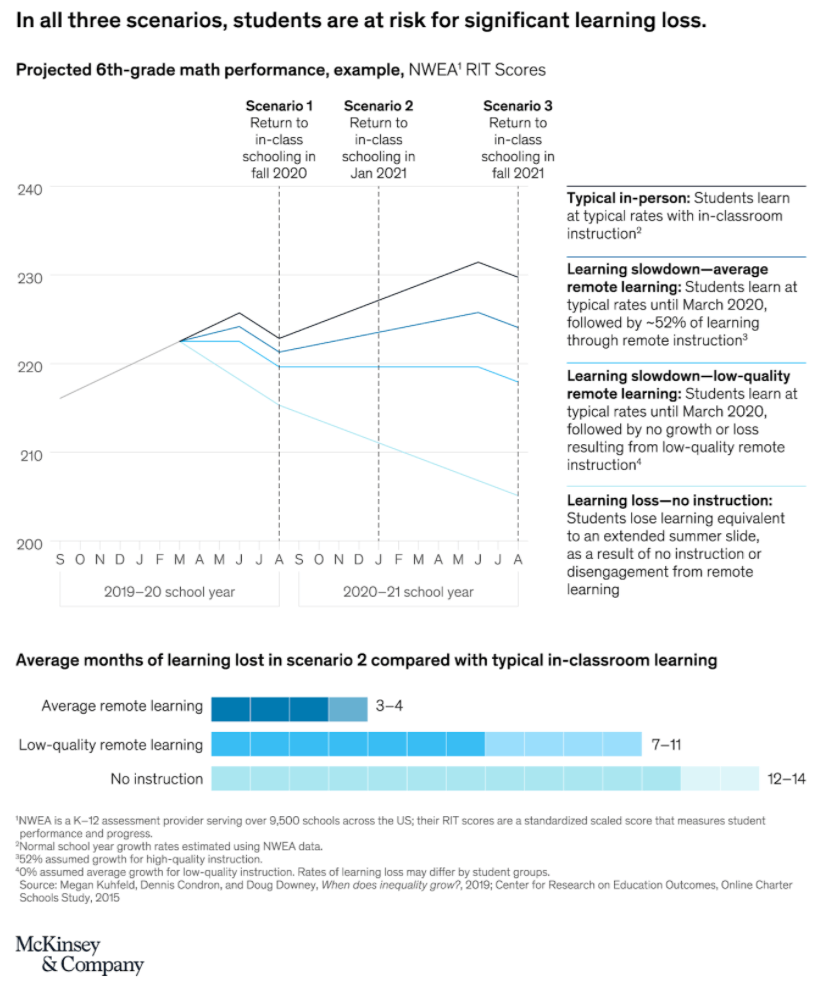 If districts fail to get their acts together, leaving vulnerable student populations to experience another semester like the one that just ended, millions may never regain their academic footing. Racial and socioeconomic achievement gaps would widen because of disparities in access to devices, internet connections, schools with coherent remote learning plans, live instruction from teachers, and parental supervision (especially in single-parent homes).
 This would do lasting damage to students' personal development and long-term learning prospects, as well as to the US economy as a whole. In 2009, McKinsey estimated the achievement gap between high- and low-income students deprived the U.S. economy of $400 billion to $670 billion a year in productivity.  An inadequate online learning response in the coming year will increase that achievement gap.
The Digital Divide
While America's digital divide has been closing steadily, significant gaps remain. The digital divide has two primary components: broadband adoption and internet-ready computer equipment (generally laptops). 
According to the Federal Communication Commission's latest report, 95 percent of the nation had access to mobile (LTE) coverage in 2018, and nearly 94 percent of the population had access to "advanced" fixed (wireline) broadband.  That percentage falls to 77 percent and 72 percent for people living in rural and Tribal areas, respectively. "On average, deployment is highest in census block groups with the highest median household income, the highest population density, and the lowest poverty rate," the FCC notes. 
Almost all (96 percent) students from households earning more than $150,000 had access to a laptop or desktop computer before the pandemic, compared to only half (51 percent) of students in households earning less than $25,000. A recent study on America's "homework gap" estimates that nearly 17 million U.S. students, especially students of color, lack fixed (wireline) internet access at home. 
Before the pandemic about a quarter of Black and Latinx households had not adopted residential broadband, compared to 10 percent of white households and 5 percent of Asian households. Among students whose families earned less than $30,000 annually, 35 percent didn't have a broadband connection at home; in households earning more than $75,000, just 6 percent had not adopted residential broadband. 
According to researchers at the University of Michigan, students who rely mainly on mobile connections lag behind those who have fixed broadband at home:      
We find that students who do not have access to the Internet from home or are dependent on a cell phone alone for access perform lower on a range of metrics, including digital skills, homework completion, and grade point average. They are also less likely to intend on completing a college or university degree. A deficit in digital skills compounds many of the inequalities in access and contributes to students performing lower on standardized test scores, such as the SAT, and being less interested in careers related to science, technology, engineering, and math.
The Federal Communications Commission created a "Keep Americans Connected" challenge to broadband operators last March. To date, more than 800 companies and associations have pledged to (1) refrain from terminating internet service to any residential or small business customers because of their temporary inability to pay bills; (2) waive any late fees that residential or small business customers incur as a result of the pandemic; and (3) open their Wi-Fi hotspots to any American who needs them. 
The nation's broadband providers developed new programs and expanded existing programs to help low-wage workers and families that didn't subscribe to internet at home. For example, Cox Cable offered discounted internet to families with children who qualified for subsidized meals, selected veterans, senior citizens, college students, public housing residents, and families that received rental assistance. Comcast, Spectrum, Optimum, Suddenlink, and others offered free broadband and Wi-Fi access for 60 days to certain customers—for example, students and low-income households.
Some schools and districts engaged with community partners to ensure students had access to high-speed internet. Public libraries offered mobile hotspots. Some school districts converted buses into mobile hotspots and parked them in high-need communities.  Alabama has used $10 million in federal relief funds to make every bus in the state a Wi-Fi hotspot. 
In addition to internet access, many schools and districts stepped up in the spring, distributing laptops or tablets and internet-connectivity devices. In Seattle, for example, Amazon donated 8,200 laptops to the public school system, and the nonprofit Partnership for Connecticut distributed 60,000 laptops statewide, which Dell provided at a 62 percent discount. Philanthropists provided support for laptops in many communities.
These efforts need to be continued and expanded, with federal and state support.  However, having broadband and devices is simply not enough, as all the data indicate. Even when provided with both, many students simply were unprepared for virtual learning. Ten weeks into the shutdown, the School District of Philadelphia reported that nearly 40 percent of students failed to attend online school on an average day. In Chicago, where 90 percent of public school students had online access, 41 percent logged into an online classroom fewer than three times a week. 
In Los Angeles, despite an offer of free Wi-Fi service for all disconnected students rolled out in March, daily absenteeism from March through May (measured by daily logins to the district's online learning platform) averaged 40% of all secondary students on any given day. 
There are too many barriers to successful online education that go well beyond just putting a connected laptop in a child's hands, and those barriers must be broken down. Students must be engaged in learning by their schools and teachers; parents have to support, encourage, and push them; states and school districts must learn how to measure the effectiveness of different remote learning approaches; and districts need to give their schools the flexibility to change their staffing models, budgets, and teaching strategies.
PPI recommends that states, districts, and charter schools focus on the following areas:
Training Teachers
Despite scant experience or training in virtual education, many teachers were thrust overnight into a wrenching transition from face-to-face instruction to online teaching. And most districts were not prepared to train them. Seven out of ten surveyed teachers reported they had not been properly prepared for virtual learning. The Washington Post reported that a survey found 43 percent of school administrators and 57 percent of teachers feeling "overwhelmed" by distance learning instruction.
In New York City, teachers were only given three days of training in online instruction, which for many of them was a first-time-ever introduction to basic learning platforms such as Google Classroom. But few teachers across the country had ever had to figure out how the keep third graders engaged in a Zoom class all day, how to use online content to excite the curiosity of inner city kids, how to grade fairly when some homes had no parent available to assist, or dozens of other challenges. For thousands of dedicated and conscientious teachers, the learning curve toward a new and different style of pedagogy has been steep. 
A new survey of 800 educators by EdTech Evidence Exchange and the University of Virginia found that only 27 percent of teachers participated in any kind of formal professional learning for online instruction last spring. About a quarter of teachers reported they covered no new material during the school closings, while more than half said they covered less of the curriculum than they normally do. 
Some districts are wisely delaying school openings to allow time to train teachers in remote learning. For instance, Clark County, Nevada's largest district, delayed the start of school by two weeks to provide teachers 10 full days of professional development.
There are many kinds of educational software already available that schools can use, much of it free. For instance, Summit Public Schools in California has spent the past decade developing and sharing its Summit Learning Program for free with almost 400 other schools around the country. Developed by its teachers and programmed by software engineers provided by Mark Zuckerberg, it is a sophisticated system that uses software and online tools to help kids acquire content knowledge and projects to help them develop their deeper learning skills, such as research, writing, speaking, critical thinking, and teamwork.
Khan Academy, developed by Salman Kahn, is another widely used and highly respected free resource. It provides more than 6,500 video lessons in math, science, computing, arts and humanities, economics, reading, and life skills. By 2020, it had more than 5.6 million subscribers, and its videos had been viewed more than 1.7 billion times. 
Most teachers need intensive training to learn about their instructional options, confer with school leaders and parents about which option best meet their students' needs, and become comfortable using them. On top of that, teachers need training in how to engage students and keep them engaged—an entirely different challenge during remote education than with a classroom full of children. 
Hit especially hard by school closures were the 7.1 million students ages 3-21 who required special education services. Not only did many of them lack computers and residential broadband, but many were cut off from occupational, speech, and physical therapy. Because the hallmark of special education is individualized or small-group support for students with a wide array of unique needs, it is impossible to devise a standard "model" for remote learning. Online programs and computers must be tailored to reflect students' various disabilities. Some experts believe teachers should also offer one-on-one support to acclimate special needs students to learning by computer and to track their progress. 
"Some states allow in-person supports for students with disabilities. In Maryland and California, some providers may visit children's homes," reports Beth Hawkins in The 74. "In Washington state, some students can attend meetings and receive services in school buildings with proper social distancing."
As many parents with pre-schoolers discovered last spring, trying to deliver early learning digitally also can be an exasperating experience for everyone involved. According to education researcher Jesse McNeill:
Distance learning presents a particular challenge to early childhood learners. Remote learning strategies that work for older students (e.g., synchronous, hour-long lectures) do not translate to younger students who rely heavily on adult facilitation and cannot pay attention for long periods. In addition, many early childhood learning activities require one-on-one facilitation or small-group interaction, which is difficult to deliver in a distance learning environment.
To surmount such difficulties, pre-K teachers and parents will have to work closely together to develop routines around remote instruction that respect the multiple pressures on working parents, and that also build in opportunities for the face-to-face interactions that young children need. 
In short, online learning isn't simply a matter of parking a teacher in front of a camera and rolling the tape. Everyone – students, teachers, parents and administrators – will need training in new ways to teach and learn. 
Engaging and Supporting Parents
The effectiveness of virtual learning often hinges on how engaged parents are in making sure their children participate. In effect, remote learning shifts some of the burden of administering their children's education from teachers to parents, who also have to navigate their own work responsibilities. One recent study found that 60 percent of teachers say that the lack of parental supervision and support at home is a key reason why students don't participate in online learning.
Many older and low-income parents lack digital skills (and some lack English language skills) to coach their children on how to learn online. In fact, according to a survey by the Joan Ganz Cooney Center, many parents ironically look to their kids to teach them these skills:
Children frequently help their parents use devices that connect to the Internet, such as computers, tablets, and smartphones. Half (53 percent) of all low- and moderate-income parents who use the Internet say that their child helps them, including 63 percent of those whose child is between 10 and 13 years old. Parents with lower educational attainment are more likely to turn to their children for help: 62 percent of those who did not graduate from high school do so, compared with 45 percent of those with a college degree. Hispanic parents are the most likely to say that their child has helped them use Internet-connected devices (63 percent, compared with 45 percent of Whites), but there were no statistically significant differences within the Hispanic community by income, language, or immigrant generation. 
The Centers for Disease Control (CDC) estimates that in households with minor children, only about 35 percent of parents are able to telework from home. Since someone has to stay home to take care of the kids, single parents who aren't able to telework are forced to give up their jobs. Only 19.7 percent of Blacks and 16.2 percent of Latinos can telework and support their children's learning throughout the day.
Remote learning places a special burden on parents who also happen to be teachers. According to the Brookings Institution, nearly half of public school teachers have children living at home. It's difficult to deliver online instruction to their students while also helping their children get the most from their online courses – especially if both things are happening at the same time. 
Federal funds to help parents afford childcare during the upcoming school year are essential, including support for innovative solutions such as "learning pods" or "pandemic pods." These are small groups of students who learn together with an in-person teacher or tutor. A Godsend to parents trying to juggle their day jobs while also supervising their childrens' education, learning pods nonetheless are expensive and families with low and modest incomes should get public help to defray the costs. 
Schools also need to engage parents in helping to teach their children, particularly parents without computer skills. In Prince George's County, Maryland, the school district has created nine Parent Centers throughout the 133,000-student district, where parents can get help with using computers and other challenges. The Centers give parents tips on keeping children engaged, connecting with a Parent Teacher Organization (PTO), and finding the best ways to communicate with teachers and monitor student participation.
A practice of many of the nation's best charter schools to encourage parental engagement should be widely adopted.  Many charters have long sent teachers to visit their students' homes and asked parents to sign contracts that commit them to supporting the education of their children. Some of the nation's more innovative school districts, including those in Denver and Washington, D.C., have begun to emulate this practice. Several studies have found that students perform better when teachers actively reach out to their parents.
But not all "family engagement" is equally effective. As many parents know, involvement in a PTA, a potluck dinner at school, or a back-to-school night doesn't help their kids learn. Research suggests that parents can best help their children by communicating high expectations and the value of learning, monitoring progress and holding their children accountable, supporting learning at home, advocating for them, and guiding their major decisions to college or career.
Some schools and districts actively help parents develop these skills. The Flamboyan Foundation, a leader in this field, has trained thousands of teachers, particularly in Washington, D.C.  The training has several purposes, according to Flamboyan's former executive director, Susan Stevenson: 1) to change teacher beliefs and mindsets about parents, so they see parents as assets and engaging them as part of their responsibility; 2) to build trusting, mutually respectful relationships and two-way communication with families; 3) to help teachers work with parents (and their surrogates), so those parents can help their children succeed in school; 4) and to enable teachers to learn from families about their children, so they can better teach them. 
Districts and charter networks should use some of any federal money that arrives to train and pay their teachers to do these things, virtually as well as physically. Funding will also be necessary to provide translators for parents and other caregivers who don't speak English. 
Finally, each school should have a communication plan to ensure parents have access to timely information about available resources. Schools should also create support groups for parents of multiple children, parents of special needs students, and parents who are essential workers and cannot stay home to make sure their children are keeping up with their studies. 
Assessing Student Progress
As students return to school, whether virtually or in person, using diagnostic tests to assess their current level of content knowledge will be critical to charting a path forward. Without preliminary assessments, schools and parents will lack a yardstick for measuring the gains (or losses) from remote instruction. 
Districts and schools will need an injection of federal and state resources and support to design ways to regularly assess how well different forms of remote learning are working, so teachers can continuously improve their offerings. End-of-year tests do not help with this task: schools will need to assess progress every six weeks or so. While some already do that in some form, all will need to learn which forms of assessment work best in a remote-learning environment. For instance, they will need to incorporate student and parent surveys into their assessments, to measure student engagement. And they will need to measure and emphasize academic growth (how much children learn over time), not just proficiency (whether they are at grade level). 
Most states already require some form of annual growth measurement, although California's approach is woeful and some other states could strengthen their methods. Tennessee's Value-Added Assessment System offers a good model, but districts will need a different approach to measure growth more often than once a year. 
Supporting Students' Social-Emotional Learning and Mental Health
Successful schools help students not just to learn content, but to develop their social-emotional competencies, such as persistence, self-discipline, responsible decision-making, ability to work with others, and ability to set and achieve goals. Like many things, this becomes more challenging in a remote-learning environment. 
One key is establishing close relationships between teachers and students. In most successful charter schools, for instance, all students participate in an "advisory" or "family"—a group of 15 or so students with one teacher. They meet regularly and often focus on activities and discussions meant to build social-emotional competencies. The teacher is expected to get to know each student and their family well and to keep track of how they are doing. Many charter school leaders believe that these close relationships—more than any other factor—helped make their transitions to remote learning effective.  
The Collaborative for Academic, Social, and Emotional Learning (CASEL) has published a guide to enhancing social-emotional learning in this time, which includes many other useful suggestions. 
As the pandemic moves through communities, it leaves behind emotional scars. Particularly in communities of color, students grieve the loss or illness of parents and other relatives, in isolation from their friends. In the coming months, more of them will face economic hardship, including eviction from their homes. For some, mental health issues will become acute. Clearly, districts and schools need federal and state funds to hire additional social workers and psychologists who can reach out and work with students and their families dealing with trauma. 
Modernizing School System Organization 
In addition to delivering emergency aid to schools so that our children keep learning during the pandemic, our leaders need to craft a long-term strategy for making our K-12 system more resilient against future pandemics or other shocks. They should pay heed to a key lesson from school districts' uneven performance last spring: organization matters.
Most of America's K-12 public schools are organized under a century-old model, in which school districts own and operate all schools within a defined geography and vest authority to make all key decisions in a superintendent and his or her staff, not in school principals.
Centralized, rule-driven, bureaucratic monopolies worked well enough during the Industrial Era, when most graduates would go on to manual labor or stay home and raise kids. But global competition has raised the bar dramatically; today's graduates must be able to do so much more to earn a decent living. Meanwhile, the pace of change has accelerated and computer technologies have made amazing things possible. 
In response, a new model for school organization and governance has begun to emerge, geared to the knowledge economy. Non-hierarchical and decentralized, the new model is built upon school autonomy, strict public accountability, and the ability to choose among very different schools tailored to the diverse needs of children. In the 21st century, success comes from decentralized networks of mission-driven organizations whose customers have choices, not from top-down bureaucracies.
This explains why public charter schools, which are freed from district bureaucracies, educate urban children far more effectively than district schools in most cities. By their fourth year in a charter, urban charter students learn 50 percent more every year than district students with similar demographics and past test scores, according to a study of 41 urban regions by Stanford University's Center for Research on Education Outcomes.
Free from red tape and bureaucracy, charters are also nimbler than district-operated schools. Recent surveys by the Center for Reinventing Public Education, at the University of Washington, showed that charter management organizations transitioned to distance learning faster and more thoroughly this spring than districts did, on average. They were already more likely to use educational software, to deliver personalized learning, and to engage parents in their children's learning. CRPE found that many of them quickly redefined teachers' roles and responsibilities to fit the new reality—using teacher leaders for each grade to lead the redesign of instruction, record sample lessons, and organize professional development for other teachers, for instance.  
On the other hand, school districts had the resources to purchase and distribute computers and hotspots quickly, a big advantage. To adapt to remote learning effectively, in other words, school systems needed strong central offices capable of marshaling resources but decentralized operation of individual schools, so empowered principals and teachers can quickly implement remote education and the support systems required for success.  
New Orleans, a district in which every public school is chartered, provides a compelling example of how to take advantage of district-level power and school-level adaptability. Within three school days of the sudden closure, more than half the city's public schools were handing out free meals. Within three weeks of closure, the school district had procured thousands of laptops and hotspots, which it then delivered to schools for distribution to those who needed them.
"By March 23, the beginning of the second week of school building closures, at least 97 percent of New Orleans public schools had begun providing their students with some form of physical and/or digital educational resources to continue learning," reports New Schools for New Orleans. By mid-April, a Louisiana Department of Education survey showed that teachers at all New Orleans public schools were reaching out to their students at least weekly, teachers at 90 percent were giving students feedback on their work, and teachers at 80 percent were delivering new content across all grade levels. This summer 60 percent of New Orleans' charters offered virtual summer school to prevent an exacerbated "summer slide" (learning loss) for their students. 
The combination of capable central offices that can steer well and empowered school leaders and teachers who can row effectively is possible in a system of charter schools. But it is also possible in districts that give schools charter-like autonomy. (With this autonomy must come accountability for performance—including potential replacement by a stronger operator—since not all autonomous schools will succeed.) 
More than a dozen school districts across the nation are converting significant numbers of their schools to this model. A good example is Indianapolis Public Schools, which has converted a third of its schools to nonprofit organizations with full autonomy and five-year performance agreements. They are called "innovation network schools," and they include restarts of failing schools, new startups, conversions of district schools, and conversions of charter schools. Since they were launched five years ago, they have been the fastest improving group of schools in the district.
States should create incentives – both carrots and sticks — for districts to do this. In Texas, for instance, the state can appoint a new school board if a district school is rated failing for five years in a row. But districts that recruit nonprofit organizations to operate "partnership schools" get a two-year reprieve from sanctions, plus an average of $1,000 per student per year in extra funding to help turn around those schools. 
Because such autonomous schools have more leeway to create innovative approaches to distance learning, other states should pass similar legislation, and Congress should include a financial incentive to encourage states to do so. By devoting as little as $2-3 billion to challenge grants for states that empower and encourage their districts to shift toward a more decentralized model, the federal government could speed up a transition that is underway but moving far too slowly.
Conclusion
The various investments proposed above focus on the immediate need to improve remote learning, but they will benefit students when they return to school buildings as well. Educational software and online resources are incredibly valuable, whether as primary or secondary/homework materials, and the more familiar teachers, students and parents are with them, the better. Parental engagement is an area most schools need to improve rather dramatically, so improvements made during a period of exclusively remote learning will benefit their students as more normal conditions return. Assessment of student progress is already rudimentary at too many schools, so efforts to expand it and make it more sophisticated during the pandemic can help for the long term. The same goes for social-emotional learning and mental health supports. And finally, the need to modernize our century-old operating systems for public education was acute before the pandemic and will remain so afterward.
America's school districts and charter networks will use some of any forthcoming emergency federal money for technology, and some of it to make their school buildings safer when students return to them. But educational leaders should not ignore the "people" side of the equation. More than anything else, we need more involved parents, teachers with more expertise in using educational software and the Internet, students able to learn because they have support in dealing with the trauma in their lives, and school districts in which the central office can steer effectively but leave the rowing—the operational decisions about hiring, firing, budget, curriculum and school day and year—to those hired to run the school.